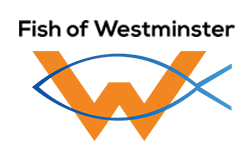 PRESS RELEASE – MEET OUR FISH OF WESTMINSTER BOARD OF DIRECTORS
Paul Langley, President.  I grew up in Port Arthur, Texas.  I graduated from Lamar
University in Beaumont, Texas with B.A. in Government and from the University of Virginia with M.A., also in Government with emphasis on constitutional law.  My master's thesis was on the Constitutional Impact of the Voting Rights Act of 1965.  My career consisted of 32 years in federal Human Resources, primarily in staffing but also in position classification, training, and employee benefits/relations.  I worked in multiple locations including Mobile and Huntsville, AL; Aurora, CO; Oak Ridge, TN; and Golden, CO, with my last stop at Rocky Flats Field Office. Church worship and involvement have always been a vital part of my life.  I volunteered for years at the Westminster United Methodist Church (WUMC) food bank and now at Westminster Presbyterian Church (WPC).  Formerly I wrote poems and won a couple contests.
Melissa Dukes, Treasurer.  I was born in Southern California and grew up near Disneyland.  I began working for the Department of the Navy in civilian personnel after receiving my B.A. in American Studies from CA State University, Fullerton.  Over the years I worked for the Navy at the Naval Air Station, China Lake, CA; Puget Sound Naval Shipyard, Bremerton, WA; and the Naval Reserve Command, New Orleans, LA.  While working for the Navy, I earned an M.S. in Systems Management from the University of Southern CA.  I moved to CO to work for the Bureau of Land Management in Lakewood in 1993.  I retired from the Federal government after an almost 40-year career.
I grew up in a family that was heavily involved in volunteering within the community.  I began volunteering at the FISH Food Pantry at WPC, my church, upon my retirement and have been active on the FISH of Westminster Board of Directors since 2016.
Jackie Carlson.  Hi, my name is Jackie. I'm from New York City. I came to CO in 1969. I have two sons, Brian and Derick. I worked for Wells Fargo Bank for 25 years. After retiring I wanted to give back as I have been so blessed with a wonderful life.
I volunteered at the WUMC food bank until COVID hit. In 2020 we decided to close our doors. I started to volunteer at WPC on Tuesday stocking and sorting donations. I also make sandwiches with Carol so that they can be given out to the homeless. I go to the Food Bank of the Rockies twice a month to pick up fresh fruits and vegetables and bakery items that we can use. I serve on the Fish Board of Westminster making decisions for growth to feed and serve our community. My purpose for a good life is to be just kind, it doesn't cost a thing. We are certainly blessed.
Jackie (Be Kind) 😇
Cynthia Jennings.  I graduated from Colorado State University. I worked for a large national corporation for 14 years in inventory manufacturing and management. Afterwards I owned a temporary employment service for 7 years.  I am currently retired and volunteer at the Fish of Westminster Food Pantry in Westminster. I also serve as a Deacon at WPC.
Carol Mauracher.  I am a Colorado native and grew up in Westminster, CO.  I graduated from Ranum High School.  I worked in the insurance industry for 46 years.  The first 30 years I worked for Dairyland Insurance Company, personal auto insurance.  When the Dairyland office relocated to Wisconsin I started working for United Fire and Casualty, Commercial Insurance.  I worked at this company for 16 years.
I retired in December 2016.  In May 2017 I started my volunteer work with the Fish Food Bank at WUMC.  I also volunteered one day a week doing data entry for Growing Home.  I still volunteer at Growing Home on a limited basis.  I volunteer at the WPC FISH Food Pantry one day a week, organizing donations and stocking shelves.  I also enjoy working on Bunka embroidery and reading.
Cindi Steinheimer.  I am a fourth generation Coloradan and grew up in Arvada. I attended Arvada High School and Regis College.  I am married and have two sons, a daughter in law and two granddaughters.  I'm retired from the Federal government after a 34-year career.